And now for someone completely obscure...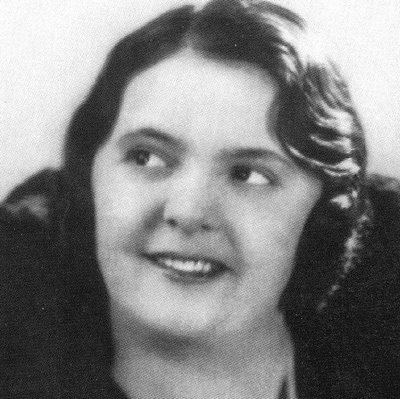 Okay, there's a small backstory here: One of my favorite haunts in the city (and surely the most dangerous to my pocketbook) is Academy Records on 18th Street between Fifth and Sixth Avenues. So convenient to the 1 train, too. It sells used CDs, DVDs and LPs, many of them quite obscure and most of them at quite reasonable prices. Of course it is generally true that the more obscure items are costlier, but not always. I found the Ninon Vallin 2-CD set on Marston Records for only eighteen bucks. That one has been out of print for some time. I have seen it on amazon.com for close to a hundred bucks. Also I have found some recordings by the delectable cabaret singer Liane for less than ten bucks. I just found one of hers listed on ebay for $106.52. So you get the idea.
Preiser has a fabulous series of compilations under the moniker "Four Famous [fill in the blank]s of the Past". These are very enjoyable as well. It was through these recordings that I got to hear more of Friedel Beckmann's recordings (another singer obscure to most who sometimes sounds remarkably like Christa Ludwig, with an equally impressive intensity and musicality) as well as many, many others. Academy always has many of these titles on their shelves, but they were always going for eleven or twelve bucks, which seemed a little expensive to me for a single CD. However, Academy has recently begun moving items that have not sold into a bargain bin. Just last week I found an early Scala Tosca recording featuring Carmen Melis (Tebaldi's teacher) and Apollo Granforte as Scarpia. For only eight bucks. Likewise, they moved a good number of the Preiser series into the bargain bin. For four bucks, I found one of the many "Four Famous Sopranos of the Past" volumes. This one features Lotte Schöne (who sings with a charm matched by few others –possibly Bidú Sayao and Elisabeth Schumann – and whom I highly recommend), Fritzi Jokl, Irene Eisinger (another goodie!) and someone named Luise Szabó, whose name was vaguely familiar to me, but about whom I knew nothing. I still know virtually nothing about her, except what scant information there was about her in the liner notes; I have Googled her and found nothing else.
Here's what the liner notes, such as they are, reveal about her:
Very little is known about the short career of the Hungarian coloratura soprano Szabó Lujza (Luise Szabó). Born in Budapest in 1904 she studied at the local Music Academy and made her debut in 1927 at the National Opera House in Budapest. She caused quite a sensation as Queen of the Night in Die Zauberflöte at the Städtische Oper, Berlin in 1931 under the baton of Bruno Walter. Szabó also interpreted this role in the same year in Amsterdam as well as for German broadcast. In Hungary the soprano recorded her Hungarian repertoire for HMV, in Berlin she did 12 titles in German for Ultraphon — some of the latter ones have also been published under the Austrian label Kalliope. Before Luise Szabó's career had even reached its zenith the singer died during an operation in Budapest on November 19, 1934. There was no family relationship with the soprano Ilonka Szabó.
Anyway, it has taken me a long time to tell this story. The point is that this woman is extraordinarily good. I know of no other current issues of her recordings. Her Queen of the Night is one of the best I've heard. My favorites are still Edda Moser, Lucia Popp and Erna Berger, but Szabó holds her own in this company.
Listen here to her account of "
Der Hölle Rache
" and see if you don't agree. Her staccati are breathtaking, fearless and pin-point accurate, as are her triplets in the middle of the aria. She even handles those final phrases of the aria quite impressively, where so many lighter-voiced voiced coloraturas collapse. So hers is not the most menacing characterization I have heard, but there is a delightful surprise at the end (though it is less thrilling than the famous version by Florence Foster Jenkins!)
When I have a moment, I will post recordings the other singers I have mentioned here (Vallin, Liane, Beckmann, Melis and Granforte). For now, enjoy the tragically short-lived Szabó.
Labels: academy records, der Hölle Rache, luise szabo, magic flute, mozart, preiser records, queen of the night