A Fairy From the Ice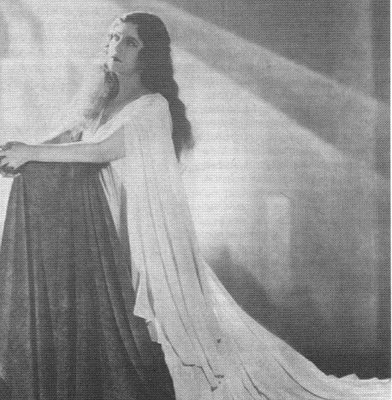 I gave a friend a recording of Eidé Noréna the other day; he had never heard of her and asked me to write a blog entry about her. I am all too happy to acquiesce, first of all because it allows me to put off other work, and second because she is one of the greatest singers I have heard and surely one with one of the most unusual career trajectories. Which fact is, of course, of great comfort and inspiration to the likes of me!
Karoline Hansen was born in Oslo in 1884. She made her debut in 1904 as Amor in
Orfeo
. She made a few recordings under this name for Pathé, but for all intents and purposes it was a provincial career through WWI and beyond. We are told that the voice was small and unremarkable. I have not heard these early recordings, so I cannot comment.
She married a famous Norwegian actor named Egel Eide and began singing under the name Kaja Eide. Eide (Egel, that is) proved to be greatly instrumental in perfecting her acting style, which was consistently remarked upon.
She received vocal advice from Nellie Melba, not a singer celebrated for her generosity toward other singers, sopranos in particular. Thus armed with some fragments of technique taught to Melba by her legendary teacher, Mathilde Marchesi, Kaja Eide completely reworked her technique with Raimund von zur Mühlen until she had achieved a voice of great purity and evenness, but also one strong enough to sustain the great dramatic intent she brought to her singing.
Eide Norena (for she had by now changed her name one last time), made a Scala debut at age forty as Gilda under Toscanini. The same year she sang at Covent Garden and eventually sang in Chicago, Salzburg, Amsterdam and eventually the Met (there is, in fact, a broadcast recording extant of her Juliette in
Roméo et Juliette
with Charles Hackett from 1935, two years before her retirement at age 55). Her career, however, was centered in Paris (hence the
accents aigus
often added to her name).
The range of her roles was extraordinary: Ophélie, Butterfly, Blondchen, Desdemona, the Queen of Shemakha in
Le coq d'or
, Mathilde in
Guillaume Tell
, Violetta, Liu, Antonia in
Contes d'Hoffmann
, Mimi, Marguerite, Nedda. She held her own against Martinelli's Moor, Thill's Don José and Maria Nemeth's Turandot. She clearly possessed an extraordinary technique to be able to conquer such a wide range of repertoire make an impression next to such huge voices. At the end of her career, she made a recording of Handel's "Care selve" from
Atalanta
which is at least the equal of the celebrated recording of Alma Gluck and the less well-known version by Florence Quartararo (who will, I hope, be the subject of my next entry).
How can I possibly choose one or two recordings to share of this singer, whom the always hyperbolic André Tubeuf referred to as
une fée des glaces
(a fairy from the ice).
All right, I'll pick if I have to: in tribute to her Norwegian heritage, I offer her recording of "
Våren
" by Edward Grieg and
Pamina's aria from La flute enchantée
(for, like so many of her recordings, it's sung in French). You can hear the vulnerability, the beauty and the great inner strength of this singer. Eide Norena, Eidé Noréna, Eidé Norena: I don't care how it's spelled. Hers is some of the most perfect singing (whatever that means) on record: exquisitely inflected, clearly articulated, informed by a great technique and a deep commitment to the drama.
I'm looking for more photos; she was clearly a beautiful, glamorous woman.
God, I wish I had room to post her Liu as well. Or her Juliette. Or her Violetta. Well, perhaps some other time. If I get any requests...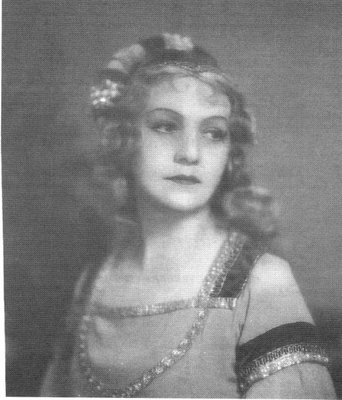 Labels: eide norena, georges thill, giovanni martinelli, late bloomer, maria nemeth, opera