Adorable vs. Uproarious
I encountered two amusing things over the past couple days that I simply must share.
Being a great Lotte Lehmann aficionado (as well as a board member of the
Lotte Lehmann Foundation
... shameless plug for the foundation, I was searching on youtube for an excerpt from her single Hollywood film,
Big City
for MGM (which I did not find on youtube, but which I actually found on the Lehmann Foundation website (click on
this link
to view it in QuickTime... and DO watch the clip; her warmth and charm come through like gangbusters).
I also found this clip on youtube of footage from Lehmann's Australian tour in 1937 and it is adorable. Always wondered what a laughing kookaburra really sounded like!
Someone in my building has been discarding boxes of old LPs. I have retained a childhood fascination for the long playing record. There was something so satisfying about going through bins of LPs, a peculiar mystique that CDs cannot match. Anyway, there were some real treasures among those LPs, including a 1959 Maureen O'Hara album on RCA entitled "
Love Letters from Maureen O'Hara
" and a 1958 Abbe Lane album, also on RCA, entitled "
The Lady in Red
" with Sid Ramin's orchestra.
My two favorite album covers in the lot, though, were two on the Audio Fidelity label, both with
Jo Basile
, his Accordion and Orchestra. One is called "Cafe Italiano" and the other is entitled "Accordion de Paris." My scanner won't accommodate the entire album cover, but I was able to capture the essence of each and I hope they will delight you as much as they did me, particularly "Accordion"...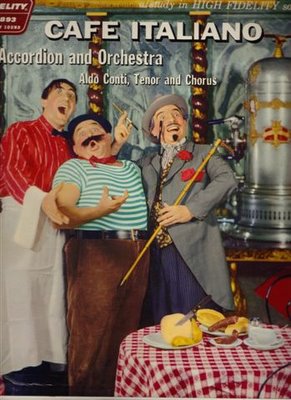 One of the best things is that they clearly used the same table and chairs for each photo (even though the table cloths appear to be different colors and the chairs may have been spray painted between photo shoots)! Just throw some sausages and cheese on the table ed eccoci, siamo in Italia. Merely replace with a bottle of wine and two half-empty glasses, et voilà, nous sommes transportés à Paris!
Labels: accordion, cover art, jo basile, kitsch, kookaburra, lotte lehmann, lp jacket covers