Three crossover extremes

MagnifiCathy

God, I hope people actually read these! I have so much fun writing them and I'd hate to think I was merely putting them out into a vaccuum.
Anyway, at the end of the last post, I promised to follow-up with my impressions of two different crossover albums from the nineties: Jorma Hynninen and Gérard Lesne. These are two singers that I admire and enjoy very much. I love Hynninen's big, craggy voice that he could also modeulate to the gentlest pianissimo. And I think that Lesne is/was one of the most imaginative and best vocally-equipped of the batch of countertenors that just preceded David Daniels.

I never heard Hynninen sing live, but I heard Lesne do a concert in Paris a number of years ago. I no longer remember the particulars. Maybe it was at the Athénée. It was a concert of arias with Il Seminario Musicale, the instrumental ensemble that he founded and led. They did a lot of recordings for Virgin in the nineties. I don't have all of them, but I remember his recording of Handel's Lucrezia as being particularly intrepid.

And before I get too heavily into this, I must pay tribute to another singer who has managed to produce some of the best crossover recordings ever. I am speaking of Bryn Terfel, whose "Something Wonderful" recording of Rodgers and Hammerstein is supremely beautiful. Of course I detest "There is Nothing Like a Dame" and no one is ever going to make me change my mind. But there are so many delights on that recording. I don't have it in front of me, but I remember particularly his charming "It Might as Well be Spring" from State Farm (doesn't Jeanne Crain sing it in the movie, all girlish and feminine; Terfel's take is just as effervescent but not at all girlish) and the profoundly moving "Come Home" from Allegro.

Okay, back to the matter at hand. First, the material: Hynninen album is entitled "Evergreens," which really doesn't promise much so much as genetic schlock. He sings a bunch of standards, and not all of the Cole Porter variety. He also sings such faves as "Lullaby of Birdland," "Love Me Tender," and "Yesterdays." The disc opens with "Love is a Many-Splendored Thing" (bringing back memories of Jennifer Jones' most peculiar performance in the film of the same title) and then several Cole Porter ("So in Love," "True Love," "Night and Day") and moves along the same lines, covering standards over a period of say, thirty years, from "Isn't it Romantic" to "Only You."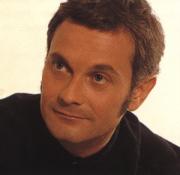 On his album "Mad'Lesne" (get it?), Lesne sings all his own material. The French material is cut out of the same cloth as songs from the same period sung by singers such as Liane Foly, Céline Dion (whose French-language albums from the nineties are SO much better than the English-language stuff she was producing at the same time). There are songs with names such as "Étoile," "Vampire," "Blouse," "Jeux d'humains," and "Sauve qui peut," which gives a sense of the power ballad type of music that we are looking at.
I had distinct first impressions of these recordings when I first listened to them about two weeks ago. I thought that Hynninen was bellowing like a stuffed pig and that Lesne was mercurial and kinda fabulous.
However, upon further listening, I've completely revised my opinion. Of course I admire Lesne for completely going out on a limb and presenting a completely different side of his music-making to the public. I have no idea how this recording was received in the French press at the time, but they tend to love this sort of thing. The first song is "Étoile" and I have to say that it is probably the best one on the whole album. He sings it in primarily in his baritone voice, doing some phrases in the sort of falsetto that one hears in any male pop singer. He sounds like a heavy rocker here, he spits out the words with real abandon and attitude. It's actually kinda sexy.

Unfortunately, it's pretty much downhill from there. The second song, "Les Empêcheurs" is completely banal in every way. He is still in his baritone range, but I'm sorry, lyrics like "méfie-toi des empêcheurs" and repeated cries of "menteurs" are not particularly compelling. In the next song, "Maladresse" there is a country-tinged accompaniment and he enters, singing the whole piece in a rather pallid falsetto that just doesn't work for me. And again, the words and melody are completely hackneyed: "Je suis maladroit, j'ai perdu ta mémoire"... oh, please!

"Vamp" really sounds like a Liane Foly number, sorta jazzy, with wailing saxophone and vocal lines, très nineties. I'm telling you, this could be any middle-of-the-road French pop album from those years.

"Jeux d'humains" tries to be a bit more hard-rocking, kind of like the opening track, but it doesn't have the same catchy hook. Then "Blouse" which sounds more like a Céline Dion song, with this puncutating pizzicato strings... I'm sure you can just imagine. And "Alissa" is the understated, heart-broken number. The wailing sax and the falsetto-stylings take center stage. (If I had bought this recording when it first came out, I probably would have listened to it a lot and sung along with songs like this one, like Dion's "Pour que tu m'aimes encore.")

"Les petits hommes" isn't really worthy of comment, and "Souvenirs" is in a simpler style, accompanied primarily by guitar and a violin obbligato. If it were a more memorable song, it'd be pretty.

The final track "Sauve qui peut" begins with an accordion lick followed by the same melody whistled (and not terribly well). It's would-be retro ("Je te hais moi non plus"... hmm, wonder where he got that lyric from). It's an attempt to have fun that doesn't really work. ("Parle-moi d'amour et je sors de ton lit.")

The whole thing sounds awfully dated now, so that the whole thing sounds rather stale. I just wish that Lesne's songwriting chops were stronger. The recording would have been a whole lot entertaining.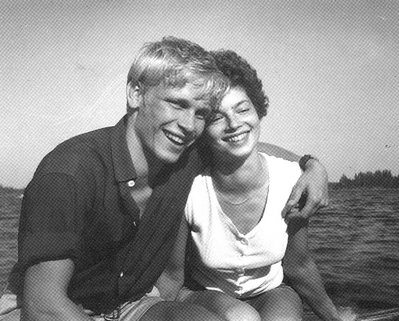 And now we come to Jorma's faves. First of all, the album is dedicated to his wife, his "girlfriend of 1958." There is a photo of the two of them together out on the water; if it was taken in 1958, he is seventeen years old. Just about the most handsome seventeen-year-old you could ever want to see. I'm certainly glad I didn't know someone like that when I was seventeen years old; I would have made a complete fool of myself. (On the other hand, it might have been just what I needed, but that's another story altogether.
The songs are all piano-accompanied. The pianist/arranger, Heikki Sarmanto is referred to as "one of the most internationally known figures in Finnish jazz." (Yes, it evidently does exist, lol!) The arrangements initially seemed to me quite pallid and uninteresting, but a little tasteful restraint sounds nice after all the guitar-stylings of "Mad'Lesne." Yes, Hynninen does bark a little bit on some of the songs ("Begin the Beguine" being the most egregrious example; in general the Cole Porter numbers are the least successful on the recording.) His English is really quite good (unlike Mattila in her "Wonderful" album, he doesn't sing any of the songs in Finnish translation). There are some peculiarities of course, the most egregious being the "u" vowel which almost always emerges as "ü" and an insistence on singing on an "r" rather than the preceding vowel ("showrrrrrrs"). Other vowels are given strange diphthongs and certain consonants, which merely adds to the overall charm. (A bit like Elly Ameling's slightly-accented English diction... now I could write a volume on those pop albums!)

Anyway, the first few tracks don't bode well for the album, but once he gets past the Rodgers and Hart and Porter and into less "distinguished" songs such as "Serenade in Blue" (Harry Warren and Mack Gordon) or "Love Me or Leave Me" it becomes apparent that he actually has something to say in this songs. And by the time he gets to the songs from the fifties, it all clicks into place. It's moving to think that these are probably songs that were popular when he and his wife were courting. "My Prayer," "Only You," and "Love Me Tender" are, in fact, exquisite. And his singing of "Yesterday" is heartbreaking. In its own way, it is a perfect rendition. I certainly couldn't imagine it sung better or more simply than it is here.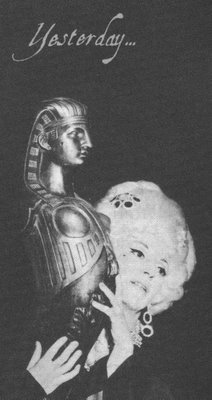 "Yesterday" of course brings to mind Cathy Berberian's "Beatles Arias" album, which is cut out of altogether different cloth. One doesn't know quite what to make of these recordings. The whole thing sounds like a joke, and a good one at that, carried off with her unique aplomb (the arrangement of "Ticket to Ride" is probably the most famous, but "Help" and "I Want to Hold Your Hand" are also hilarious). Her overly formal (and intentional) English pronunciation adds to the delight. And there are certain songs that come off beautifully, as more than just a gimmick ("Here, There and Everywhere," "Girl"). Her version of "Yesterday" also comes straight from her heart, or at least appears to do so. In fact, in a conversation in French at the end of the CD, she says that originally she chose to do the songs in a baroque style that would appeal to the parents of Beatles fans, but eventually she put them in her programs simply because they were wonderful music. I think it would be safe to call this the most distinctive "most unique" crossover album ever.
BTW, if anyone loves Berberian, you gotta visit her website which is one of the best-designed websites I've ever encountered. There are fantastic photos, a thorough bio, and a playlist of her singing everything from Monteverdi to "Surabaya-Johnny" to her own "Stripsody" (the reference is to comic strips, not to ecdysiasts). And if you weren't a fan before, you will be after you learn more about her. The "Ticket to Ride" on her website is the best-sung one I have ever heard from her.
Labels: beatles, cathy berberian, crossover, gerard lesne, jorma hynninen