Roberta Alexander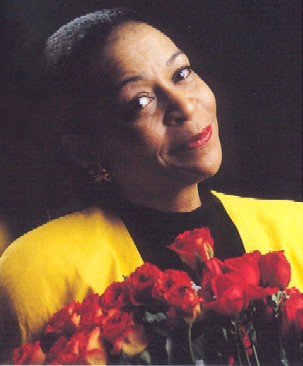 I rediscovered another singer yesterday who has somehow fallen through the cracks of our collective memory.
I remember hearing her Ives and Strauss song recordings in the late eighties and thinking, yes, this is interesting. At the time, her voice and artistry struck me as lacking in freedom and spontaneity.
Having just listened to
her recording of Samuel Barber songs
yesterday, I wonder what the hell I was thinking back then. Perhaps I have just heard so much lousy singing since that her true worth is only now apparent.
On this recording she projects elegance and profound musicianship, as well as a voice that functions beautifully in all its registers. But even more than that, in a song such as "Bessie Bobtail" that always seemed ineffectual to me, she draws upon great stores of empathy and conviction that make the song devastingly powerful.
Her
Hermit Songs
also seem faultless. I love Leontyne, as I have said repeatedly here, but she was not always the most scrupulous musician, nor the most... specific... interpreter. But Roberta Alexander gives each song its own character, and she is able to modify her vocal color to convey the ecstasy of "St. Ita's Vision", the desolation of "The Crucifixion", the playfulness of "The Monk and His Cat", the drama of "Sea Snatch" and the profundity of "The Desire for Hermitage." And her sheer vocalism is pristine: St. Ita's high pianissimi, while admittedly not Leontyne-esque, are transcendently beautiful in their own way.
I found a
wonderful interview
with her that was conducted not quite ten years ago, in which she reveals herself to be a person of great intelligence, sensitivity and wit.
I met Roberta Alexander briefly backstage at the Châtelet when I was singing in
Le Luthier de Venise
and she was appearing in Peter Eötvös'
Angels in America
. There was enormous interest surrounding the presence of three divas who had had prominent careers in the eighties and beyond: Julia Migenes and Barbara Hendricks in addition to Roberta. Her music was written in such a guttural way that one assumed that the voice was completely decimated. And yet my friend Derek Ragin, who was also in the cast, told me of sitting in his dressing room and hearing in the hallway a voice singing Mozart that was so pure, so poised, that he couldn't figure out who it was. It was Roberta's voice; and when he complimented her on her vocal state, she said that, sadly, no one was really interested in hearing her sing that music anymore.
Which makes me lament the short-sightedness of this business, when such a magnificent singer simply falls off the map, while her voice still retains much of its former beauty.
Labels: roberta alexander, samuel barber