Two Incomparable German Chick Singers, #1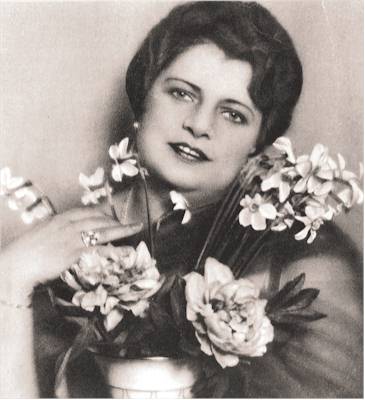 I am taking a break from watching Bergman's
Scenes from a Marriage
(the six-part television series; it's a bit intense for viewing straight through) to post on two singers that move me deeply. Both of them are relatively new acquaintances of mine. I have known
of
them for years, but had never adequately explored their recordings. Thankfully in recent months I have rectified that situation.
A few months ago I was working in the kitchen, happily listening to a completely different recording (a matchless Pergolesi
Stabat Mater
with Maureen Lehane and
Judith Raskin
, who is another all-time favorite of mine and about whom I will compose an entry very soon. Let me just say in passing that she is the singer that she leaves in the dust these twittery, faceless American lyric sopranos of the past twenty-odd years).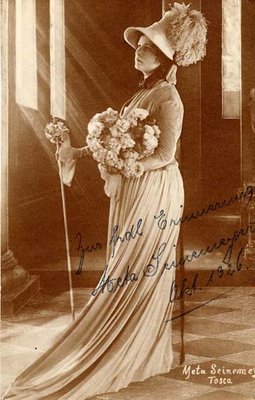 At any rate, to get back on track, at the very satisfying conclusion of the Pergolesi, out of the blue I was struck, almost between the eyes, by this lush, creamy, magisterial voice singing "Vissi d'arte". I had to check to see who it was because I had no idea.
Meta Seinemeyer
. Ah, yes, a name that I knew and yet one with whose singing I had only a passing acquaintance. I had ripped a CD of her singing that I had borrowed from my friend
David
, with whom I almost always agree in matters aesthetic.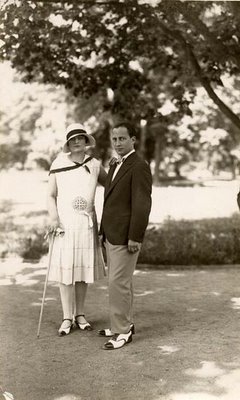 With Frieder Weissmann
Of course one of the the first things comes to mind to anyone who has heard the name Seinemeyer is that she died of leukemia at the tragically early age of thirty-three. She was romantically involved with the conductor Frieder Weissmann, who married her on her deathbed. So most of my knowledge of Seinemeyer was the tragic soap opera aspect of her life.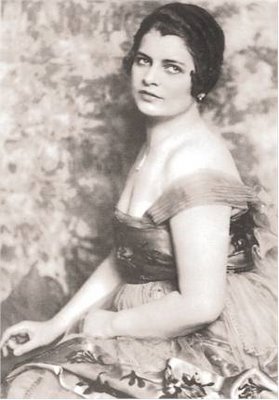 How lucky I was that I was able to get to know her through her recordings as well. They are not all that readily available. There is a Haenssler recording of selected recordings as well as a Preiser issue of her complete recordings. Here is another soprano who deserves to be mentioned in the same breath as the very greatest sopranos and yet who today has been nearly forgotten.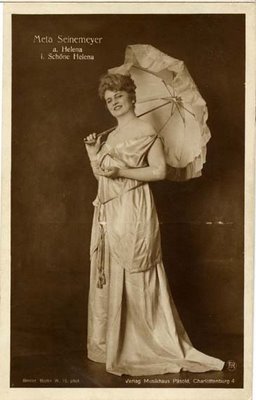 She was born in Berlin in 1895 and began her career there at the Charlottenburg Opera. Her career was centered in Dresden, where she sang the Duchess of Parma in the premiere of Busoni's Doktor Faust, as well as a host of Wagner, Verdi and Puccini roles. Her career extended to the Teatro Colon in Buenos Aires, to the United States, where she sang with the Manhattan Opera House, Oscar Hammerstein's New York company that for a time (1906-1910) was a serious artistic and financial rival to the Metropolitan. She also sang at the Wiener Staatsoper and, in some of the last performances of her career, at Covent Garden. It was immediately upon her return to Dresden that she became ill. She was only to sing five more performances there until her death, a mere ten weeks after singing the Marschallin in Der Rosenkavalier, her final performance. (These details are available on the extremely informative website devoted to Seinemeyer.)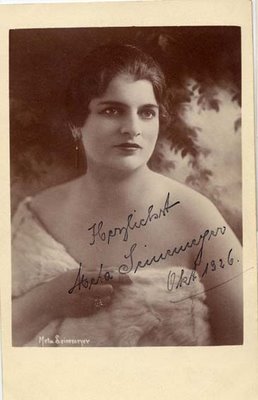 I strongly recommend that any lovers of great singing immediately search out this extraordinary singer. I could hardly choose which single recording to offer, but I chose Butterfly's entrance for the unspeakably beautiful B-flat she sings at the words 'ove s'accoglie'. As all my readers know by now, I never make pronouncements like this, but that may be one of the most perfect notes I have ever heard in my life. Hearing it knocks the wind out of me.
Labels: frieder weissmann, madama butterfly, meta seinemeyer, tosca, vissi d'arte