Rose Ader: Liù piange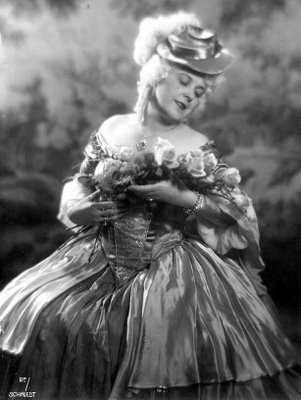 Here is another great soprano. If you were to demand the name of the most beautiful voice I have ever heard, I might choose Rose Ader (1890-1955). Here is another singer about whom very little is known. I know her because of my friend the amazing Mike Richter, whose
site on singers and singing
, which changes every week, has published a
special page on her life and artistry
.
Not much of substance is known about the Austrian soprano. For twelve seasons, her career was centered in Hamburg. It was there in 1921 that she sang the first performance of Puccini's
Suor Angelica
in Germany. She emigrated with her family to Austria in 1933, went from there to Italy where they remained until after the war, at which time she emigrated to Argentina, where she ended her days.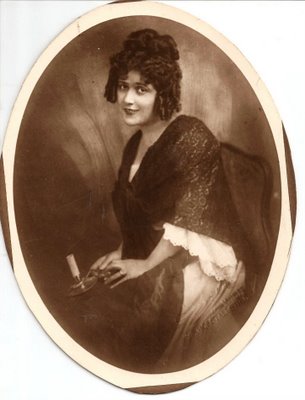 There are very few recordings extant. Mike has posted all of these on his Rose Ader page. Only two recordings, of the Mimì arias, were ever published. There remain some Parlophone test pressings, including one of "
Un bel dì
" that simply must be heard.
Mind you, Ader appears, at least on the basis of these few recordings, not to have been the most scrupulous of musicians. She drags the beat incessantly and several of her entrances are not even close to being in tempo. But have you ever heard creamier high notes? Or the end of the aria handled with such aplomb? I don't think I have.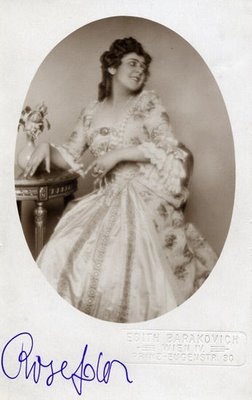 Puccini wrote the role of Liù with her in mind. In fact, she and Puccini were lovers. I found for sale online an autograph letter from Puccini to Ader, which the seller translates thus:
"Mia cara Rose, it hurts me to hurt you! But I must do it for your own good - it doesn't matter if I suffer - you have a future and with me you have no luck. I can do nothing or little for you... Frankly it would be better to finish it - to remain friends and send news of one another once in a while. You know that I want only good things for you and desire all the good fortune in the world for you. You are used to a life that's bright - beautiful - and staying with me, what life would you lead? Think about it seriously - it gives me much pain to think you are not happy. I received your two letters [what I wouldn't give to know what she wrote there!] and I did not want to write you right away - I am working and feeling well enough - My poets have not given me the third act [of
Turandot
]! Liù weeps and in writing the music I think of you, my poor and sweet and good Rose! Affectionately, your Giacomo."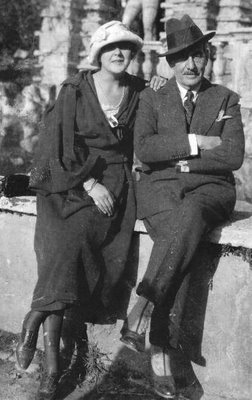 As the
seller
of this autograph points out, Ader may very well have inspired Puccini as he composed the music to what was purportedly his favorite heroine (the masochistic ends to which she subjects herself tells us much about Puccini's treatment of women in general), Ader was denied the opportunity to create the role of Liù, a distinction which went to Maria Zamboni instead. If one knows Zamboni's recording of "Signore, ascolta" then one knows what an idiosyncratic , histrionic and rather unlovely Liù she made.
More later on other exquisite Liùs. But for now, enjoy the voice of this woman whom, in spite of her artistry and voice, is remembered today only as the most cursory footnote in music history.
Clearly she deserves better than that!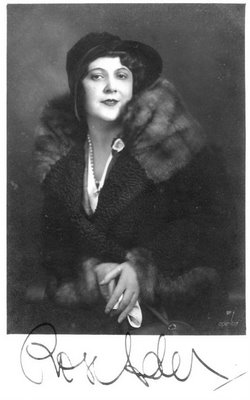 Labels: liu, madama butterfly, puccini, rose ader, turandot