Softly and gently, dearly ransomed soul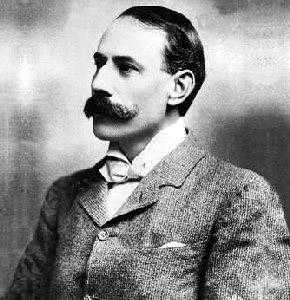 I have just spent the past week up at
Bard
, rehearsing and performing in the 80-voice chorus that just performed Elgar's
Dream of Gerontius
. We are now on the bus home and there is a movie playing that I'm not interested in watching... can you believe that they didn't want to watch my copy of
The Passion of Joan of Arc
?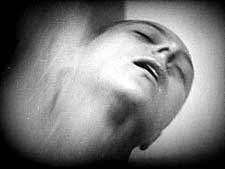 Gerontius... I fell in love with the piece the first time I heard it, years and years ago in the definitive recording: John Barbirolli, Richard Lewis and the sublime Janet Baker. At that time I found it transcendently beautiful and deeply moving. In fact, I so loved the Angel's music, which was originally written, if I am not mistaken for Clara Butt,that I filched the opening solo and prepared it for the Reine Elisabeth Competition in Brussels back in the nineties. I was asked to sing it in the semi-finals, but I did not advance beyond that point. Jurinac and Cotrubas and a number of others were on the jury, I think maybe Dame Joan as well, although I have never been a true worshiper at her throne... but talk about hard hitters!!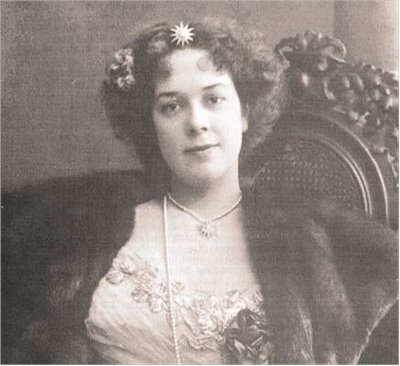 Clara Butt


But back to the Angel: I always harbored a secret wish that I would someday sing this part. I was rudely disabused of that notion this week. Elgar's orchestra is ginormous (I'm not sure how to spell that; the 'g' is soft and the 'i' is long) and the role of the Angel is quite rangy and challenging. I was forced to admit that it is not within my capabilities, nor was it ever, in all honesty.

Returning to the piece now, so many years later, during rehearsals I had a slightly different evaluation of the piece as a whole. It has some exquisite music, some of it almost unbearably beautiful, but there is also a lot of pomposity. There is a huge choral passage which seemed to me fairly uninspired while we were rehearsing it, though it was enormously rousing in performance just a few hours ago.

Our performance was the crowning event of Bard's Elgar Festival. There were symposia and concerts over the past two weekends that covered an enormous range of scholarly and musical material. I was able to attend a few of the concerts and the symposium this morning and I learned a lot. Two nights ago I heard a rare performance of the Frank Bridge Piano Quintet. I have heard a few Bridge pieces and never been terribly impressed, but this one completely blew me away. The response of the friend I attended the concert with was, "I want this played at my funeral." The performance was brilliant as well, one of those chamber music events where the players were completely on the same wavelength, to the extent that they breathed as one.

And just this afternoon, I heard the American première of Herbert Howells' Piano Quartet, in a performance almost as brilliant as the Bridge. The piece itself is nearly as memorable. The Bridge was a craggier piece, I thought, moments of soaring lyricism springing out of jagged sequential passages. But the Howells had a deeply moving second movement. There were gems like this all weekend, and during the first weekend as well.

But our Gerontius concert really swept everything before it. In rehearsals I had serious doubts about Vinson Cole as Gerontius. The voice has weathered time fairly well, but in rehearsal his distorted vowels and jabbed consonants resulted in a total lack of legato singing. It was never a large or plush sound, and when he sang out, one had the sense that he was at the edge of his resources. His piano singing verged on crooning, but it was very beautiful nonetheless. In the performance today, he surpassed himself, delivering a performance that was moving on its own terms. The vowels remained problematic, but the audience brought out the best in him.

There were two other performers this afternoon who were truly exceptional. Jane Irwin sang the Angel. She is one of those beautiful, plangent English mezzo, in the Janet Baker tradition, such as Sarah Walker or Sarah Connolly. None of those singers can surpass Janet Baker at her best, but Jane Irwin gave a performance that bordered on greatness. She radiated such calm, such poise, yet such deep intensity that it was palpable even to the chorus, as far upstage as we were. Some were concerned about her tendency to singing flat, but I found those moments few and far between. The Angel's farewell was about enough to rip your heart out. I believe that Jane Irwin is the singer who sang Mère Marie in Dialogues des Carmélites in Chicago this past season, replacing the late lamented Lorraine Hunt Lieberson. That is a singer I would have loved to have heard in this part as well, but on the basis of her performance this afternoon, Jane Irwin can withstand comparison with the very best.


The other singer who knocked my socks off is named Carolyn Betty. She sang Mary Magdalene's solo in
The Kingdom
, one of three excerpts we performed at the beginning of the concert. I remembered her from her Met Competition win a few years ago, but at the time (and over the radio) I was not particularly impressed. She seemed to have a troubled passaggio that led to a hampered top. Well, either I was mistaken at the time or else she has improved beyond recognition. This woman, aged just twenty-nine, seems to have it all. Her musicianship is beyond reproach, the voice itself is extraordinarily beautiful, and her technique seems rock-solid, which allows for beautiful legato singing as well as access to a full dynamic palette, from beautiful floated pianissimi to intense, soaring fortissimi. This woman is the real thing. Run, do not walk to hear this singer (either of these singers) should you get a chance.
One reason this piece was so moving to me right now is that my beloved friend Marguerite died in London this past Wednesday morning. She was stricken with leukemia this past year and while she had a short remission at the end of last year, the cancer returned with a vengeance this past April. By the end it had metastisized to her brain. Her friend Shaun has been very good about keeping in touch with me during her final decline and it was he who texted me on Wednesday and to whom I spoke on Thursday morning.
I can't possibly sum up Marguerite in a few words, so I will just say that she is perhaps the most extraordinary person I have ever known. She was the funerals director for the City of Westminster. In this capacity, she arranged for the funerals and burials of those (more often than not, elderly) persons who died without any known relatives or friends. She would also take it upon herself to try to find any remaining friends or next of kin. The extraordinary stories that she told about her work experiences would have made an amazing book. I proposed more than once that we collaborate on her autobiography, which now, alas, will never happen.
Marguerite also volunteered for years for the
Terrence Higgins Trust
, the foremost AIDS organization in the UK. She was the buddy to probably a dozen different men in their daily struggles with the disease, and in their final days. She was a great lover of the opera and the ballet. She had a bawdy sense of humor that was irreverent and raunchy, and, no shrinking violet, she put her money where her mouth was. She was generous and kind and always ready to offer hospitality to any friends of friends that happened to come to London. My brother Jon and his wife Mary Kay spent their honeymoon in London, and Marguerite, thought she had never met them before, took them under her wing just because they were my family.
Indeed, I met her through an ex-boyfriend of mine who met her by chance when he was staying at the Y in London almost twenty years ago. At that point, Marguerite was working as an administrator there and she helped Tim get tickets to a Covent Garden gala performance of Trovatore. Then when I traveled to London to perform with
La Gran Scena
, she came to my performance at the
Bloomsbury Theatre
and from that moment on we became dear friends.
Over the years, I stayed with her five or six times in her beautiful but small flat in Pimlico. She traveled to Athens at Christmas 2000 to hear me sing the
Weihnachts-Oratorium
with Helmuth Rilling. She came to visit me and Nick when we lived in New Jersey. Nick had never met her before, but they also became hard and fast friends. When Nick and I went through an extremely painful breakup two and a half years ago, she asked me if I would mind if she remained in touch with him. Though Nick and I are no longer in touch, I am happy to say that he and Marguerite remained friends until the end of her life.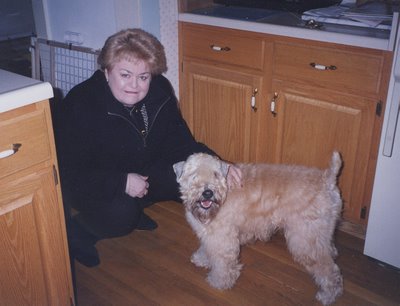 Marguerite had a great love for animals, and our Finnegan loved her immediately when she came to visit us those years ago. Every night he would park himself outside the door to the guest bedroom. It took a good bit of prodding to get him to come downstairs and get his breakfast. Then he would wait by the upstairs door until Marguerite would come down, perfectly coiffed and put together. He would greet her like a long lost friend. They, too, had a special bond.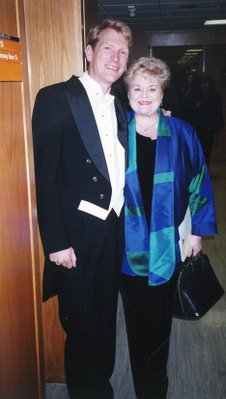 Given Marguerite's death, singing this piece about a dying soul's dream of its journey into the afterlife proved to be overwhelming. It is a gargantuan piece, and yet to me some of the most moving moments are the gentle ones. The Angel's farewell is one of the great moments in this piece, and as Jane Irwin sang it so beautifully, I looked out into the hall, remembering the many times that Marguerite was in the audience when I sang. And at that moment, I felt her with me again, not in any material sense, perhaps, but in a way that transcended the physical, filled me with awe and gratitude, and brought into vivid relief the very progress of the soul into the world beyond that Elgar depicts so masterfully in this work.
Labels: afterlife, Bard Festival, Carolyn Betty, Dream of Gerontius, Edward Elgar, Jane Irwin, oratorio, Vinson Cole